a vision of a sustainable world
rises up in a field. You pitch your
tent with thousands of others on
the doorstep of a climate criminal.
welcome to the climate camp

It's an inspirational opportunity to take action and learn about everything from the disasters of biofuels to building a wind turbine. In the evenings you could be dancing or planning direct actions with new found friends.
What you will certainly feel is the excitement of being part of a growing movement tackling climate change and the absurd contradictions between endless economic growth and a sustainable just society. Last year two thousand people pitched up on the land earmarked for a third runway at Heathrow. The tide against the third runway has been rising ever since.
This year the Camp is at Kingsnorth power station in Kent, where the government and e-on think they are going to build the first coal-fired power station in thirty years. The Climate Camp has other ideas, like leaving fossil fuels in the ground for example!
Scottish Climate Activists may be organising transport down to the camp. Email scottishclimateactivists [at] riseup.net to find out more info.
See you all there!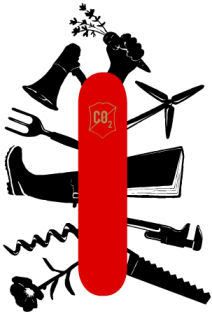 ps. If you're wondering where your next instalment of WBT? is, don't hold your breath. We've all been far too busy! Check scotland.indymedia.org for news. Hopefully we'll have an addition out in the future. WBT? is sleeping, it's not dead yet!